Princess personally met us and showed different areas, which were perfectly suit for events. The monumentality of the castle walls, airiness of glass ceiling, aristocratic interiors- an amazing eclectic and modern approaches. 
The second story is about our bride Dasha. We are namesakes. Dasha and Dima happily married already 9 years, have 3 charming kids and, unfortunately, there was no wedding, which Dasha dreamed of. According to her words, their wedding should be done by Preston Baily or Daria Bikbaeva. 10 of march- Official date of event, was impossible to miss- 10 years of marriage. By the way, Dasha`s grandparents also married on 10th of March and lived together in harmony for more than 50 years. And, so, it happened! For the first time we met in Moscow, understood that "we are on the same wavelength" and we immediately stopped attention at the castle of dreams and magic event on March 10 :)
This project is not really anniversary, because usually, people do not celebrate decade of marriage. It was a magnificent wedding, including hen-party, stag-party, ceremony, banquet, surprises and fantastic décor. Absolutely at all occasions was a dress-code, which shows chic and sophistication of the wedding.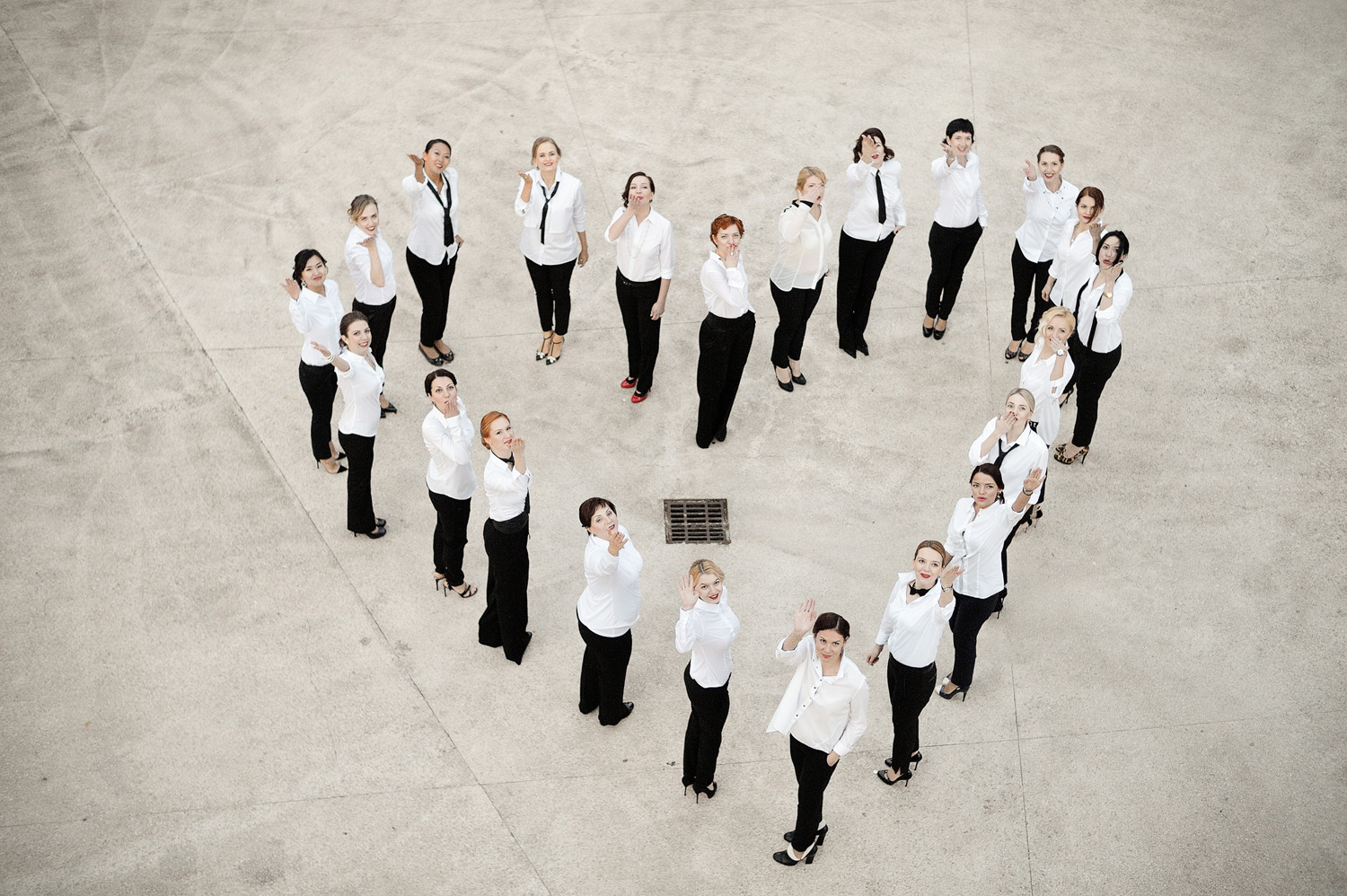 A hen-party was in black and white style- all bridesmaids, mother of bride and small Eva were dressed up according to a given style. In the beginning of the party we created a wedding movie. Banquet was made by Natalia Zizko (European champion in professional floristics) and delicious cuisine was presented by famous chef of Villa Borghese.
Stag-party was completely different, in a casual style. Man had an interesting excursion on Segway and afterwards they had dinner with Comedy club residents.
At the same time we was filming a movie for the groom, using his favorite song Hands up: Say why".
Both movies were shown on the next day during wedding itself. Everybody liked them and showed then several times.
In this project we were focused on details. 
Family coat of arms was designed, which afterwards laid as a foundation of corporate identity style of this project. Invitation card, the site of the newlyweds, personal welcome letters, slippers in the room, hangers for dresses with  bridesmaids' names, umbrellas, blankets - only some of the ideas implemented in the corporate style of the wedding.
The walls of the castle are decorated with portraits of all guests in a stylish frames.
Together with Dasha, we were prepared interactive surprises with a screen from which everyone was crying and laughing at the same time.
At the ceremony, each guest has written a special wish which is now stored in the named antique box. The key to this box Dasha gave to small Eve and just on 15 wedding anniversary wishes will be reading.
Unfortunately, we cannot show all parts of the event because of the privacy agreement. I`m sharing only with a small part of a miracle created by a large international team.
At the end of the wedding, especially for the team, was made a replica of the wedding cake, but with the title "Dream Team"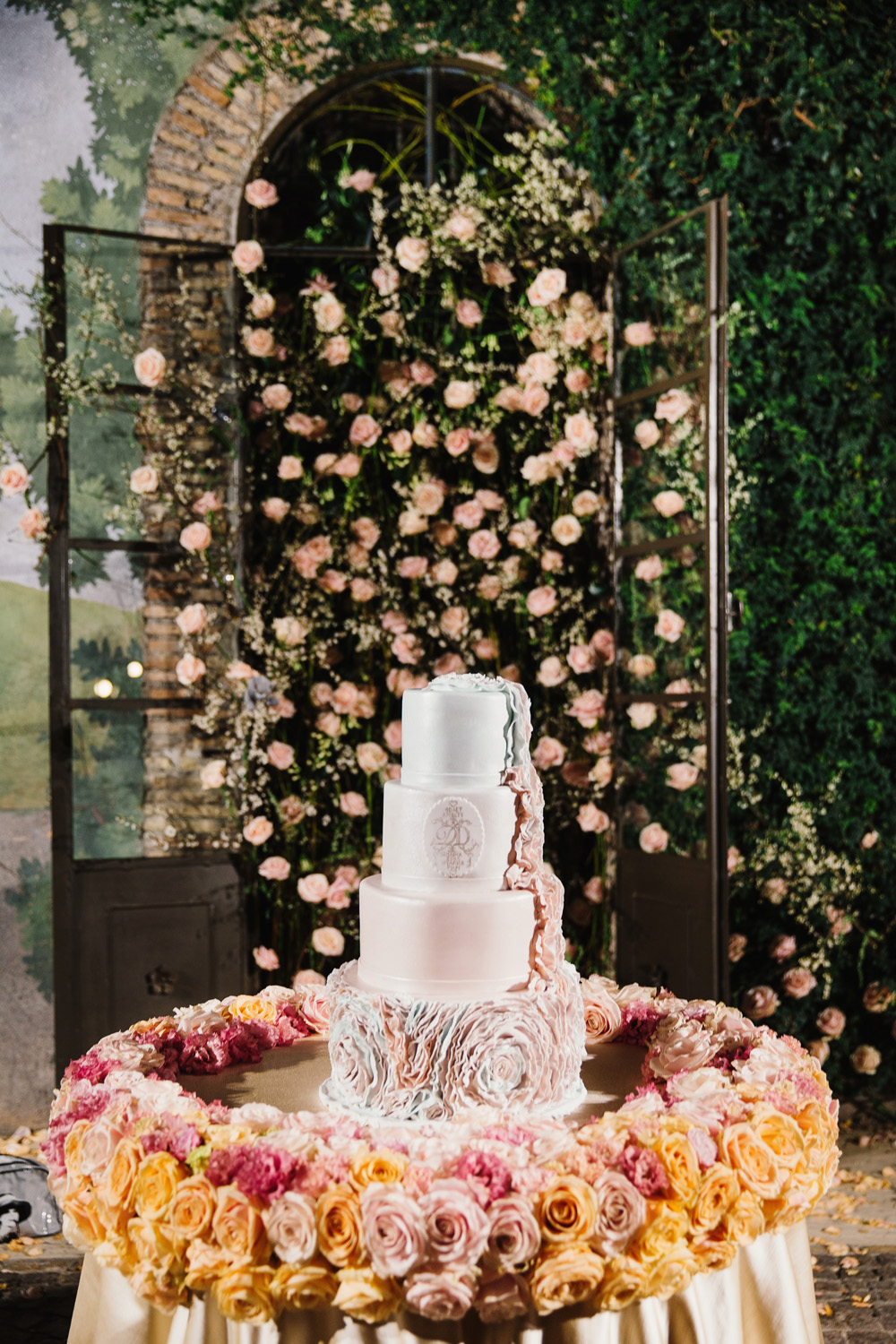 A couple of days after the wedding, Dasha wrote a grateful letter to each member of our great team.
And we got this letter :) Thank you, dear!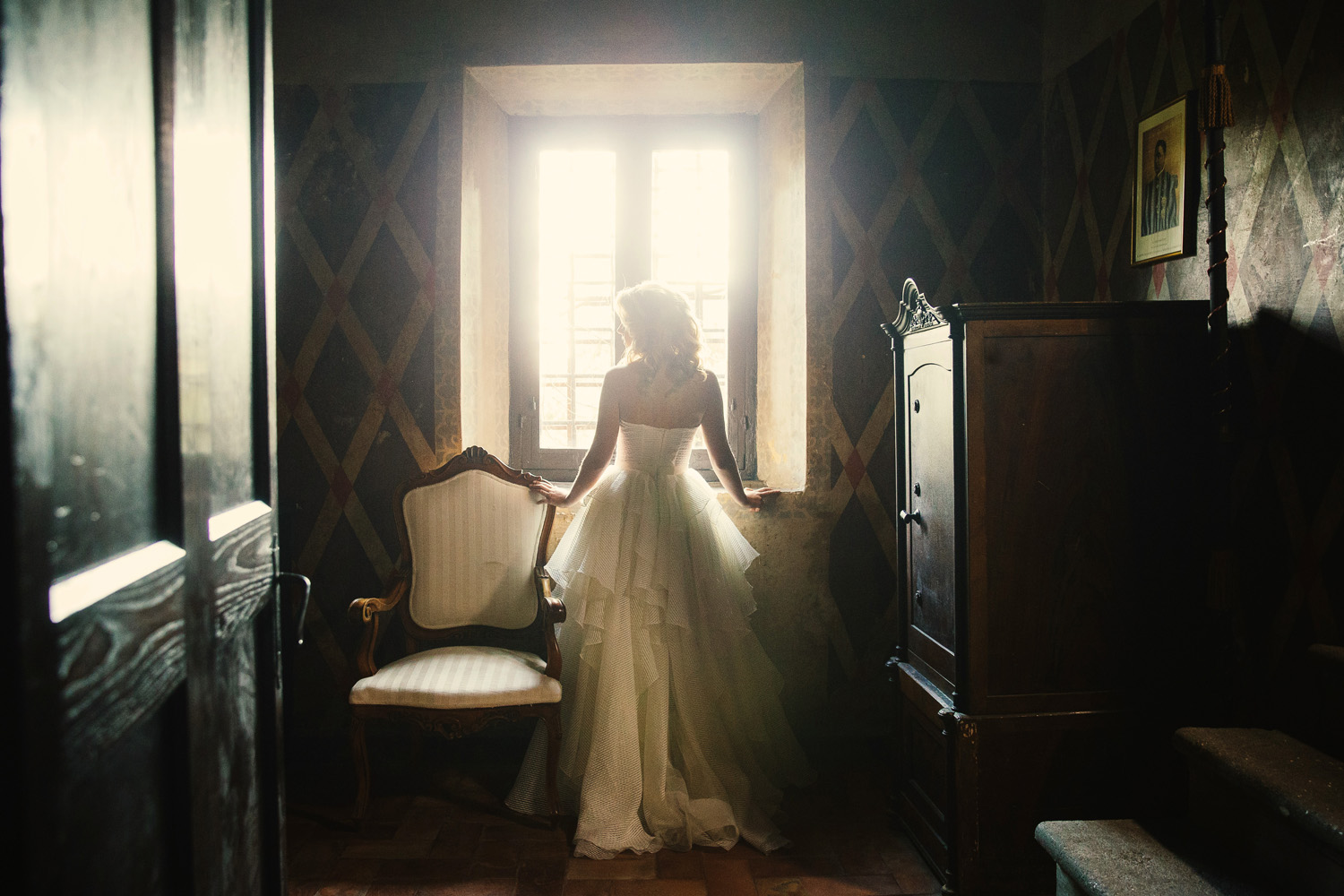 Comment from Dasha Khodacevich
My husband and I had a funny story with our wedding. First of all, we had two weddings - in Moscow, where we moved a year before the wedding and have already some friends, and in hometown, where there were many friends and old mates. But in both of them there were not a professional photographer or videographer. As a result, now we have only amateur snapshots and! Attention! , NO PICTURES that would not be ashamed to hang on the wall. Cut a long story short, immediately after this realization, I decided that we will celebrate one of our anniversaries as a bridal spectacular with all ensuing consequences.
 In the beginning of cohabitation we were really swallowed by a career, then, when household income became afford to spend on dream event and anniversary was close, I understood that I`m pregnant. Dancing on the seventh month of pregnancy -is not my "ideal picture of marriage". On the following beautiful date I was again pregnant, and at the end I promised to myself that on 10 years anniversary we will do it for sure! So I began to plan our decade in advance.
I must say that all these years, it gives me great pleasure to dream about this great event. And, of course, I, like any normal girl, loved to read the stories about beautiful celebrations. Around that time, I realized that if the budget will be unlimited, then my wedding will organize Preston Bailey, and if we will not get to the Forbes list, and choose a wedding Russian guru, then only Daria Bikbaeva! And pretty easy - just after one call I obtained a response with agreement to cooperate. And then began the most exciting months, because the anticipation, as we know, can become something that is not less enjoyable than the event itself. And, so, it happened. Daria introduced me to lots of amazing professionals: photographers, videographers, musicians, filmmakers, chefs, organizers, decorators, presenters, operators and many others.
And here is an interesting thing: all of these totally different people have one common thing. I understood and realized it only during event. So, all these people passionately in love with their job! Each of them is not just a professional, but a fan, admirer and guru of his/her métier.
 Everyone did their job with a great dedication, with a sense of joy and pleasure that the wedding was originally doomed to success. It`s fair to note, I was strongly pushed by Daria in a lot of things. In the beginning, I did not want to agree. For example, she tried to persuade me to sew a dress, when, I was set to something recognizable and branded. Probably, like for most girls, whose husband gave a "free hand" in terms of cost, I dreamed of Wera Wang, Oscar de La Renta, well, or Rosa Clara at worst)))
But Daria just insisted on "non-binding meeting" with a fashion designer. It was charming Katya Borisova, I literally fall in love with her in the first minutes of dialogue. And I decided to trust her, although the process of sewing and fittings annoys me. As a result, I made the right decision. I got not just a dress from the new collection of the most famous designers, but an exclusive outfit tailored especially for me and for my four years daughter, which was over the moon. Or musical group. I had a desire to invite pretty famous group, but Daria very authoritatively insisted on "her" guys, who even didn`t have a clear promotional video. The result stunned me - the guys were not just professionals, but mega-cool in the business. The dance floor was packed, saxophone accompaniment conquered the most experienced and cynical guests. In general, a complete delight and gratitude for persistence to Daria.
Also, I want to stop on the process of filming family movie and clip-surprise of the girls. Planning and implementation of the filming of the two mini-blockbuster by themselves are huge, fun and unifying event for all participants.
The director of both videos was Oksana Haritonova, a charming girl with a strong character. How can be combined such an incredible creative flight of thought and strict observance of the timing when filming - it's a mystery! Apparently, this explosive mixture gives such great results. Of course, I will not disclose secrets of the plot, but I will only briefly characterize the result. Clip-surprise from the girls is sexy, provocative, but at the same time is not passing the verge of decency. Now our husbands have a fresh eye on their wives. My husband said that Beyoncé is nervously smoking a cigarette by watching our video and, as well, will take a note of some tricks for her future video))) In the family movie our children are telling family biography. Now it's mandatory program before going to bed - watching the movie, the history of our family. There was also a video surprise from the men, which they shoot directly at the party in a secret. It is mega-hit, by watching it, the cheekbones are hurting from laughing.
Well, now about the event itself. Initially, I set the goal to reconcile the irreconcilable. More specifically, I would like to have a happy and heartwarming wedding in such an incredibly pompous place as 17th century Italian castle. And you know what? We did it! I dreamed to have the main emotion after the wedding "happiness and warmth "and not "How much did they spend?!". We succeeded! The aftertaste of our wedding was lasting for a very long time for everyone. Already a month has passed, a lot of has happened afterwards, but all of our meetings, we start with the fact that recall some great moments of the wedding.
And, of course, now we have the great pictures and video not just from the wedding, but from our family celebration!
Thanks to Daria and to all her team, that they have done not just a celebration, but they have created a real milestone in our family history. Priceless is not only the celebration, but also the memories that are so carefully captured by professionals. And, as our friends said to us during ceremony, I want to say this to you: we wish you that all good you are doing to people, will return to you in a double amount. 
Producers and of the project and organizer of the wedding.
Daria Bikbaeva (wedding-vip.ru)
Décor TRIDVORNOVA ART-bureau
Zizko Natalia, Tridvornova Tatiana @tridvornova_art
Oksana Haritonova and Ivan Marinin – producer of the project
Zotova Elena concept artist
Omelina Julia (organizer Italy)
Katya Borisova – designer of Dasha`s and Eva`s images  

Foto-group
Guydin Alexey @guydeen
Uhnevich  Pavel
Chumakova Alena
Klimahina Olga

Video-group
Sozonov Michael @michael_sozonov
Klyanchiny Alexander and Tatiana
Elnar Muhamedyarov and Gusev Denis

Stylists
Lipatnikova Mariya
Urina Elena
Kursikova Evgeniya

Conficteoner
Anna Chirkova @annachirkova_21
Petkova Gulfiya

Music
Arif (music/sound/sound record, DJ )
Geidman Igor (saxophone, cover-band)

Presenters
Kiselev Anton @anton_kiselev

Other people, without whom this project would not be so magic and cool!
Ushakova Olga
Kikina Anastasiya
Marina Guskaya
Trohinina Anastasiya
Gabbana Marina
Kulikova Oksana
Svetlana Topol
Petrina Anastasiya
Grebenchikova Evgeniya
Kornienko Julia
Kobzar Andrey
Regina Gazizyanova
Julia Belyaeva
Special thanks to family Khodasevich Dasha and Dima. For trust, love, active position in every detail and for the opportunity for each of us to realize the magic.
Castello di Torcrescenza #дашадимарим #свадьбарим #bikbaevaitaly #dreamteamroma #bikbaevaweddingitaly
Www.wedding-vip.ru